39.5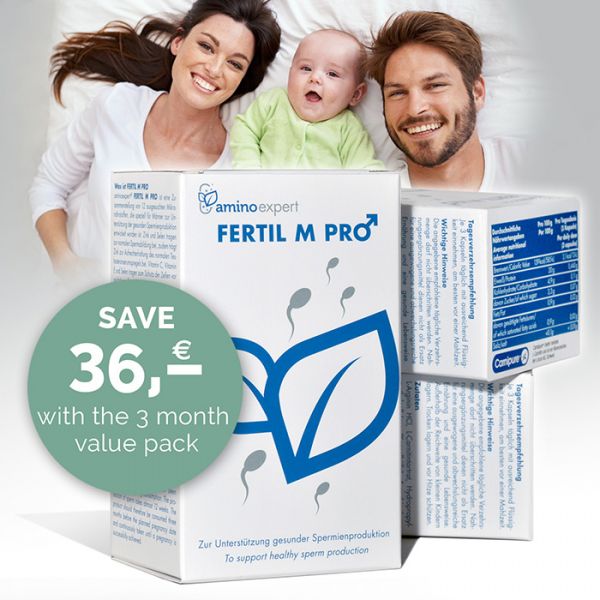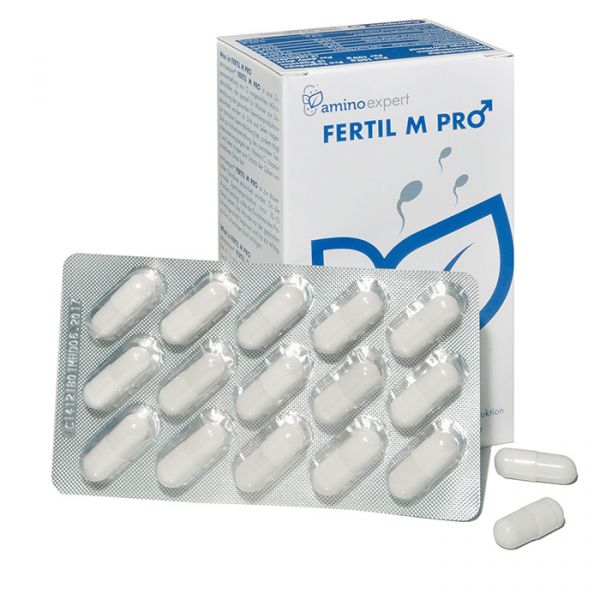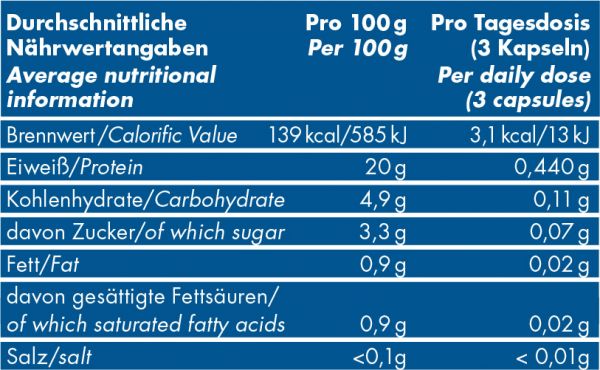 Fertil M Pro
€39.50
(59,85 € / 100g) Incl. VAT, Excl. shipping
In stock, immediately available
Buy 2 for

€34.50

each and save

13

%

(52,27 € / 100g)

Buy 3 for

€24.50

each and save

38

%

(37,12 € / 100g)
For the support of fertility in men. Selected, highly-dosed micronutrients. An advanced formula, which effectively contributes to the healthy generation of sperm cells. One box contains 90 capsules and will last for 30 days.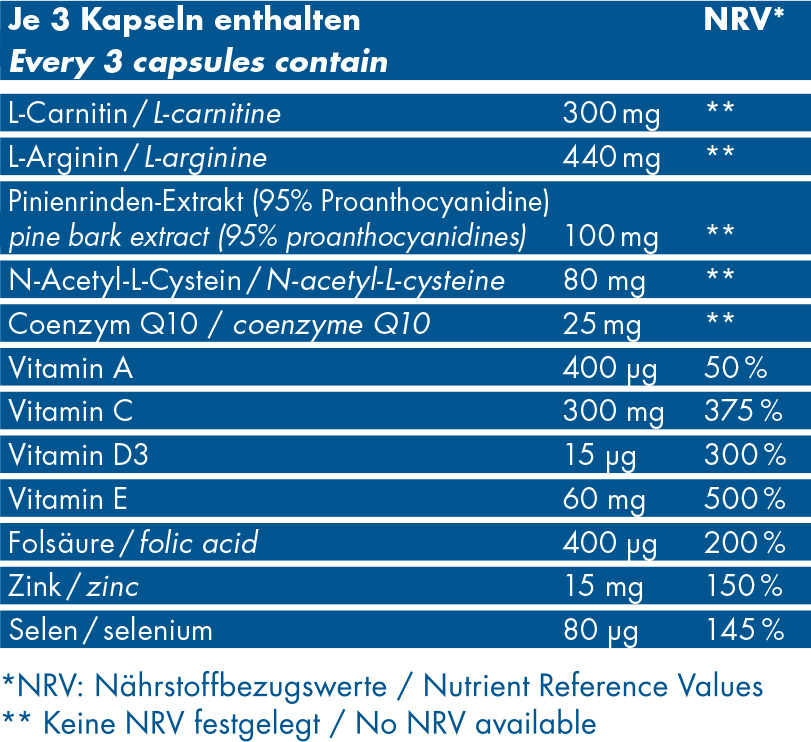 aminoexpert® FERTIL M PRO has been developed for men, who desire fathering healthy childen and as such want to support their sperm development process.
aminoexpert® FERTIL M PRO contains various highly dosed water soluble and fat soluble antioxidants. They are effective at protecting the sperms' valuable DNA against damage caused by oxidative stress from free radicals.
How does aminoexpert® FERTIL M PRO work?
aminoexpert® FERTIL M PRO provides 12 important micronutrients to supplement the daily diet of the aspiring father. This building-block cocktail is a valuable contribution to the ability to procreate, especially by supporting healthy sperm production.
Zinc and selenium contribute to normal spermatogenesis,
Zinc also contributes to the maintenance of normal testosterone serum levels.
Vitamin C, vitamin E and selenium help protect the cells from oxidative stress.
Folate, vitamin D and zinc are involved in the processes of cell division.
Sperm cell development process takes approximately 75 - 90 days to complete. The maturing cells are particularly susceptible to oxidative stress during this period. The highly dosed antioxidants in aminoexpert® FERTIL M PRO will catch the free radicals and by doing so neutralize the oxidative stress.
Micronutrients such as coenzyme Q10 and L-carnitine are essential for the energy metabolism of sperm and thus ensure that the cells are highly mobile.
aminoexpert® FERTIL M PRO can therefore make the difference to achieving a quick and healthy pregnancy with your partner.
How long should I take aminoexpert® FERTIL M PRO?
The sperm production process can take up to 90 days to complete and it is highly reliant on the permanent availability of antioxidants, various vitamins and amino acids. We therefore strongly recommend that you take aminoexpert® FERTIL M PRO for a minimum of three months before beginning to try for the desired pregnancy.
Consumption should only be stopped once the partner is successfully pregnant. The remaining capsules may still be consumed, because the various micronutrients make an ongoing contribution to cell protection (vitamin C, vitamin E, selenium) and to a healthy immune system (zinc, vitamin D, vitamin C).
We therefore generally recommend buying the discounted 3-month pack for best value.
Are there any side effects or interactions?
All ingredients are safe and approved micronutrients and phytochemicals. They can generally be taken over a very long period of time without concern.
There are no known side effects or interactions. If you are taking medication, please consult your doctor or pharmacist.
aminoexpert FERTIL M PRO is made in Germany and has been developed on the basis of a number of international clinical trials.
Ingredients
L-arginine HCl, L-carnitin tartrate, hydropropyl- methylcellulose (capsule shell), ascorbic acid, D-alpha-tocopheryl acetate, zinc gluconate, pine bark extract (95% proanthocyanidines), N-acetyl-L-cysteine, coenzym Q10, sodiumselenite in calcium carbonate, separating agent magnesium salts of fatty acids, colouring agent E 171, cholecalciferol, retinyl acetate, folic acid.
More Information

| | |
| --- | --- |
| Weight | 66 |
| Delivery Time | In stock, immediately available |