44.5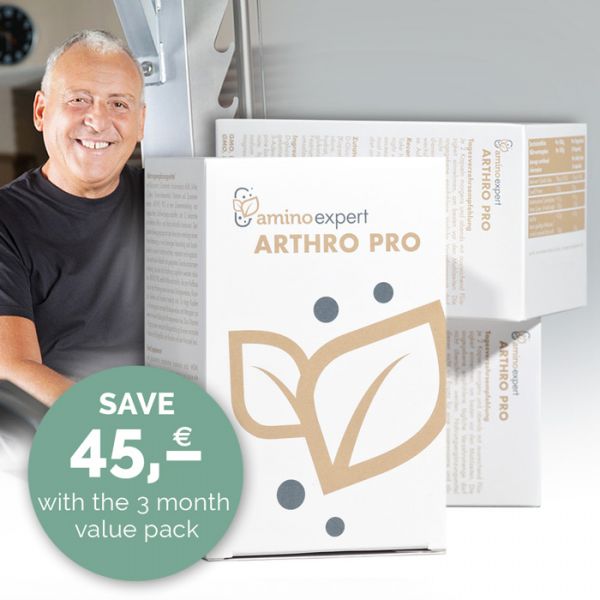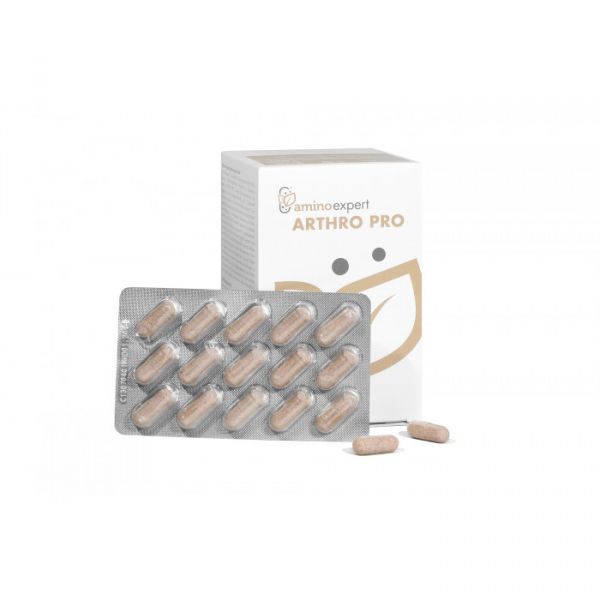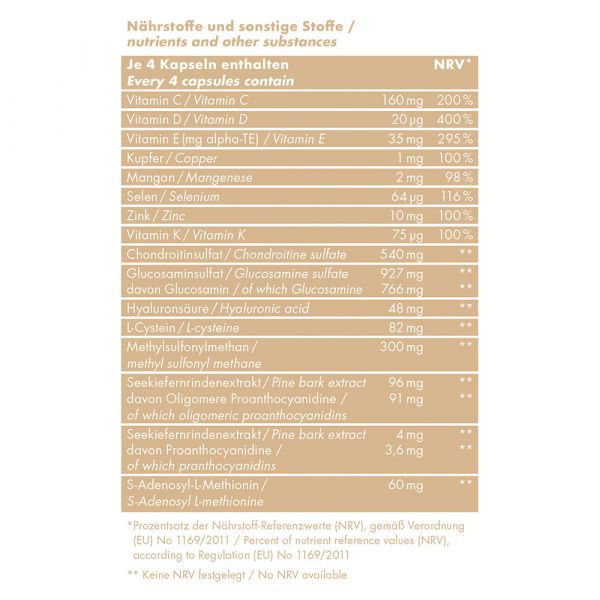 ARTHRO PRO
€44.50
(42,79 € / 100g) Incl. VAT, Excl. shipping
in stock, immediately available, shipping free
Buy 2 for

€39.50

each and save

11

%

(37,98 € / 100g)

Buy 3 for

€29.50

each and save

34

%

(28,37 € / 100g)
Arthro Pro is a highly effective joint nutrition formula. It supports joint structure and inhibits inflammatory processes such as osteoarthritis and arthritis. The 13 key nutrients include glucosamine and chondroitin, pine bark extract, SAMe and hyaluronic acid.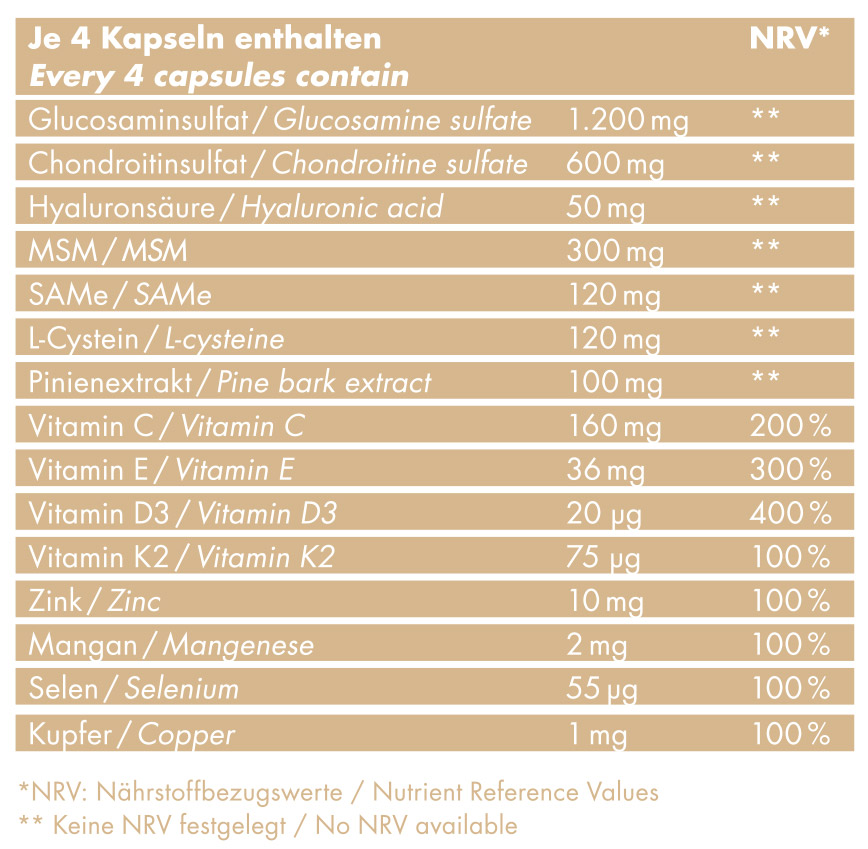 Arthro Pro is a professional food supplement developed for joints, combining the best and most important nutrients for healthy joints, in an optimized dosage.
The components of Arthro Pro are
Glucosamine sulphate - a key component of cartilage matrix and is required for the development of cartilage. It is vegan (from corn starch)
Chondroitin sulphate - also a key component of cartilage matrix, ideally together with glucosamine.
Pine Bark Extract (Pinus pinaster): This extract has been extensively studied with regard to its effects in osteoarthritis and arthritis pain relief. The results are promising. When taking pine bark extract, no significant side effects have been reported in over 300 studies.
SAMe (chemically: S-adenosylmethionine) is a metabolite of the amino acid L-methionine. SAMe is particularly sulphurous and therefore, has been studied intensely. It is important for joints and in osteoarthritis.
Hyaluronic acid: is commonly called a "joint lubricant" and is part of healthy joint fluid.
Vitamin C is important for the formation of collagen fibres, as well as for the immune system and therefore inflammatory responses.
Vitamin E is a major lipid soluble antioxidant. It protects cells from oxidative stress ("free radicals").
Vitamin D and vitamin K are the two vitamins that are essential for bone formation. Vitamin D is only produced in the skin in intense sunshine, but is hardly contained in the diet. Therefore, depending on the age and the season, between 60% and 90% of the population have a vitamin D level that is too low and thus a restricted calcium metabolism and an increased risk of osteoporosis. The immune system also needs vitamin D to function properly. aminoexpert Arthro Pro now also contains 20 µg vitamin D (corresponds to the recommendations of the DGE e.V. with 400% NRV) and vitamin K (75µg / 100% NRV).
Zinc is also involved in the immune system and is essential for the formation of collagen.
Selenium, manganese, and copper are additional trace elements. They offer protection from free radicals, help to protect the articular cartilage from breakdown and are building blocks in the construction process of cartilage.
The optimised formulation complies with the recommendations of many orthopedic and sports medicine professionals for joint problems. Arthro Pro is also optimally dosed to ensure maximum benefits by taking 4 capsules daily.
Compare Arthro Pro - and test it for two to three months. You will be convinced!
Ingredients
D-glucosamine sulfate (vegan), chondroitin sulfate, capsule shell: gelatine (bovine), methylsulfonylmethane (MSM), ascorbic acid, SAdenosyl- L-Methionin (SAMe), L-cysteine monohydrate, pine bark extract, DL-alpha-tocopheryl acetate, zinc gluconate, hyaluronic acid powder, manganese-D-gluconate, menaquinone, sodium selenite in calcium carbonate, cholecalciferol, anti-caking agents: magnesium salts from
More Information

| | |
| --- | --- |
| Weight | 104 |
| Delivery Time | in stock, immediately available, shipping free |