59.5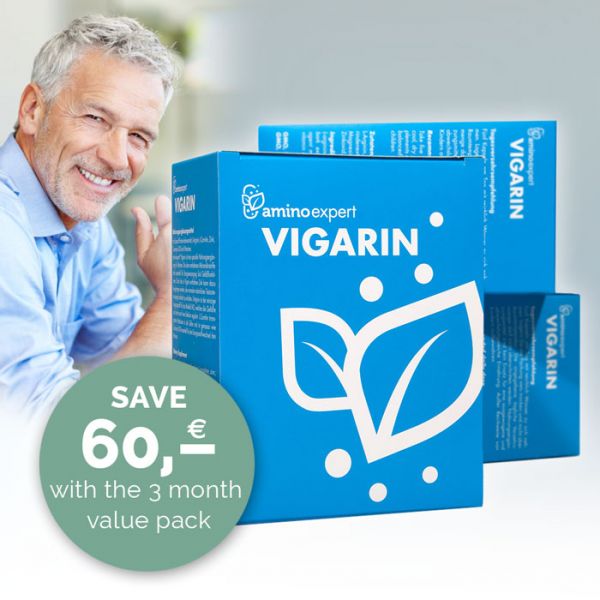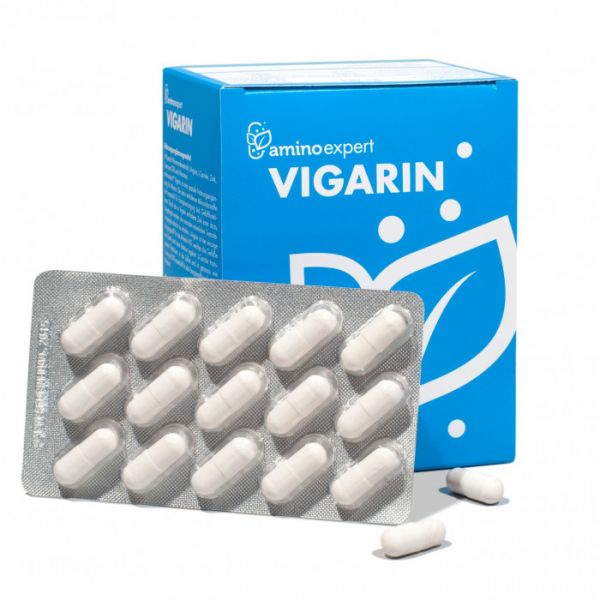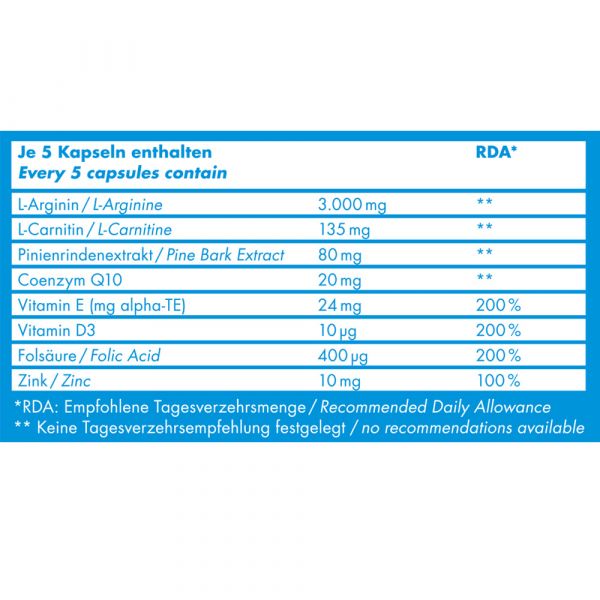 VIGARIN
Vigarin® for men. The professional formula for testosterone, energy and protection of blood vessels. The daily dose of 3,000 mg of L-arginine, 80 mg pine bark extract and additional key nutrients ensure the production of testosterone (zinc) and play a role the metabolism of the capillaries. Each pack includes 150 capsules for one month, packaged in individual blisters for maximum hygiene and longevity.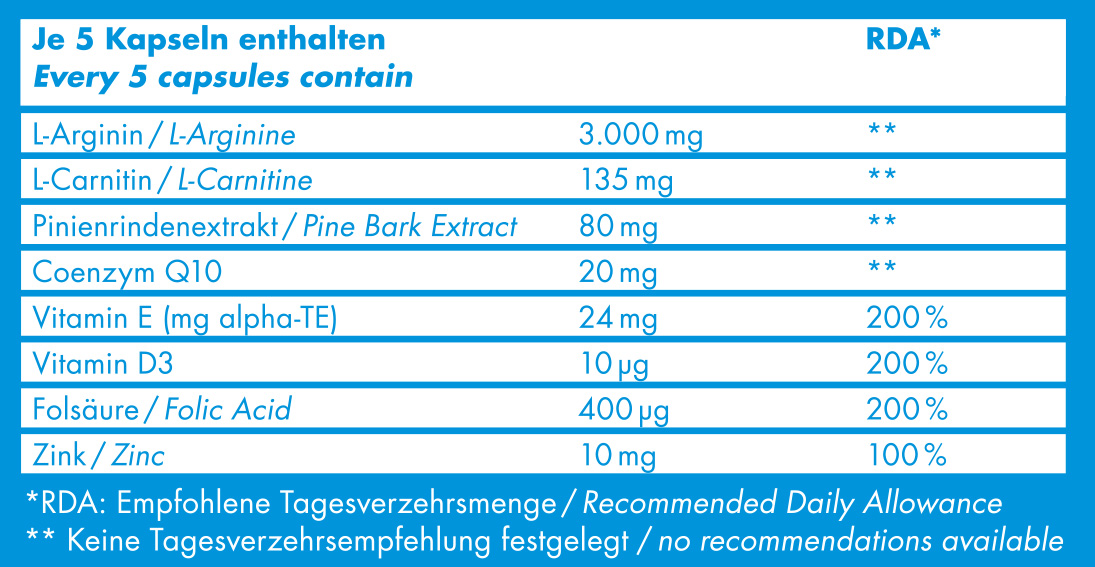 Food supplement with special pine bark extract, L-arginine, L-carnitine, zinc, coenzyme Q10 and vitamins. aminoexpert Vigarin® is a special food supplement for men. The micro- nutrients it contains are essential for energy supply, healthy levels of the male hormon testosterone and vascular functions.
Vigarin® contains these important micronutrients for men:
L-arginine (3,000 mg of pure L-arginine)
Pine Bark Extract (80 mg, extract from the French maritime pine Pinus pinaster)
Zinc (10 mg)
L-Carnitine (135 mg) in carnipure® quality
Coenzyme Q10 (20 mg)
Vitamin E (24 mg)
Vitamin D3 (10 micrograms)
Folic acid (400 micrograms)
Why are the ingredients in Vigarin so important and effective?
The zinc contained in Vigarin® can help to preserve normal male testosterone levels. Healthy male testosterone levels are important for libido as well as other important health parameters of men.
L-Arginine is the precursor for the production of nitric oxide (NO), which regulates blood vessels. There are several studies which have investigated the effects of of L-arginine alone and combined with other nutrients. L-Arginine delivers energy to the body. Many studies recommend combining L-Arginine with other nutrients in order support antioxidative activity.
L-Carnitine transports fatty acids into the cells and similar to coenzyme Q10. As such, the transport of fatty acids is essential for energy metabolism. Various studies have been conducted to analyse the effects associated of the nutrients and combination of nutrients Vigarin® delivers .
Please note:
Vigarin® contains only naturally occurring substances and vitamins that the body needs. Vigarin® does not contain chemical additives for instant relief and is not a drug. There is not an immediate effect on health as result of taking this combination of natural amino acids, vitamins and pine bark extract. On the contrary, Vigarin® has been developed to support long-term health and vitality. This special food supplement permanently supports healthy metabolism in men.
We therefore recommend taking as directed for at least one to two months. Ideally, Vigarin® should be taken permanently.
Compare the ingredients and price! Try the Vigarin® 3-month supply now at a great price!
Ingredients
L-arginine, cellulose (capsule shell), L-carnitine tartrate, pine bark extract, DL-alpha tocopheryl acetate, anti-caking agent magnesium stearate, coenzyme Q10,zinc oxide, Cholecalciferol, folic acid
More Information

| | |
| --- | --- |
| Weight | 0 |
| Delivery Time | avaiable for instant shipping |